About Me
Name: Profile
Location: Waterbury, Vermont, United States
Nan is a licensed art educator (K-12) and gifted education specialist ( PreK-12). She is a member of the Teaching for Artistic Behavior partnership (TAB), National Art Education Association & National Association for Gifted Children.
Links
Archives
Recommended Reading
A place to see what is happening in Fine Arts at Rocky Mountain School for the Gifted and Creative
Friday, January 28, 2005
Inspiration and reference
Two Students have been collaborating for weeks on a tiny house structure (see below). The scale and detail are impressive and attractive. They have tiny chairs, a tiny pool (sparkling with crystal beads), tiny curtains, and a tiny cat family who lives there. After many sessions of work, one of the students brought in a book detailing how to make tiny things for a tiny house (an American Girl Publication). The two referred to the book and used it for further inspiration.
Tuesday, January 25, 2005
This is a luxury house for a family of little kitties. The largest cat is about the size of my thumbnail.
Puppets, People and Pets
The Puppet Center has been open for a few weeks now. Paper Bag Puppets, Finger Puppets, Stick Puppets, sewn Felt Hand Puppets and now Sock Puppets have all been coming to life on a routine basis. Some older students have also tried out marionettes, rod puppets and most recently, Specialty Hand Puppets featuring latex heads.

Pets and People continue to be favorite subjects for RMS artists. Today we had "Cardboard Dude" with many moving parts (using paper fasteners). "When you look at him, he seems normal, but when you turn him around, he becomes 'Old Tired Worn-out Guy'".

The rule is: You may take a felt puppet body ONLY if you know how to sew.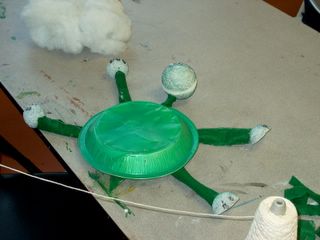 This turtle marionette has been a challenge for it's 10 year old designer. The head is designed to open and close for talking, and the legs have been tricky. Stringing it is the final hurdle to overcome.
This is this student's first experience with papier-mache. His puppet will be a black panther.
These rats try to get their boyfriends to drink soy milk and help with the chores.They each have a purse, because they like to go shopping.
"This puppet is made from parts of everyone in my family"
Friday, January 14, 2005
Students went online to find these images to work from.
From Hollywood to RMS
A student appeared in my classroom before school this morning with a picture in hand. "Do you have any black cloth I can use for a flag?" He showed me the picture and we looked for options. Later his partner came to class with the picture, ready to continue day three (or four) on their building on a hill project. The two are making a model of a movie location, and have gotten to the point where they need specific references to work from. This project has gone home and back at least three times, so that work can be continued in both places.
Papier mache hillside made in school, house added at home.
Tuesday, January 04, 2005
Plan and Execution
This is what can happen in a Choice Based Art program: A 7-year-old student arrived in class today with a folded up "plan" (It was the FIRST day back from a two week break). On the outside it said "take to art on Tuesday and Friday. Put in backpack". Inside was a detailed drawing of a swing set, complete with grass and sky and clouds, and the words: Make on Tuesday. And if you need to on Friday"
This student planned not only what she would do in class today, but also built in provisions for the project taking more than one session. I asked her if she knew what materials she would use. She told me "no, but I'm sure I can find what I need" And she did. She proceeded to make a working swing "for my little dinos", complete with green grass all around. She made a title card, but declined my invitation to leave it at school for display, taking it home instead for her dinosaurs to start enjoying right away.


The plan
The execution: A working swing. It wasn't finished until a marker was used to color the tape green to match the grass below.
Puppet Center Opens Today!
Our latest work area is equipped for puppets. The center includes paper towel tubes, Popsicle sticks, paper bags and straws for puppet bodies, and all the embellishments and adornments needed to create character and personality. The center is strategically located between the Collage Center and the Construction Center, acknowledging that needed materials and tools can be brought from other centers as needed. One student created a paper bag puppet "made of parts of my mom, my dad and me!" -some sort of puppet genetic experiment perhaps…another created "the puppet version of me", with a white shirt and a bow tie. Students told me we need some socks and some wood to complete the center.
Paper bag puppets were very popular today. This one has wings that flap and a funny voice.
This tiny puppet, made by a 7 year old student, is built on a wooden ice cream spoon. The picture doesn't show the tiny heart on the tiny dress, but the tiny hands and tiny feet show!