About Me
Name: Profile
Location: Waterbury, Vermont, United States
Nan is a licensed art educator (K-12) and gifted education specialist ( PreK-12). She is a member of the Teaching for Artistic Behavior partnership (TAB), National Art Education Association & National Association for Gifted Children.
Links
Archives
Recommended Reading
A place to see what is happening in Fine Arts at Rocky Mountain School for the Gifted and Creative
Tuesday, January 25, 2005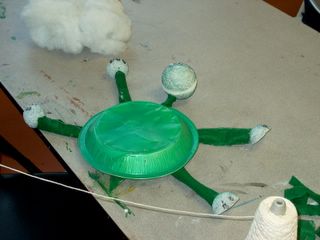 This turtle marionette has been a challenge for it's 10 year old designer. The head is designed to open and close for talking, and the legs have been tricky. Stringing it is the final hurdle to overcome.