About Me
Name: Profile
Location: Waterbury, Vermont, United States
Nan is a licensed art educator (K-12) and gifted education specialist ( PreK-12). She is a member of the Teaching for Artistic Behavior partnership (TAB), National Art Education Association & National Association for Gifted Children.
Links
Archives
Recommended Reading
A place to see what is happening in Fine Arts at Rocky Mountain School for the Gifted and Creative
Friday, January 27, 2006
Hold still please, and no talking to the artist...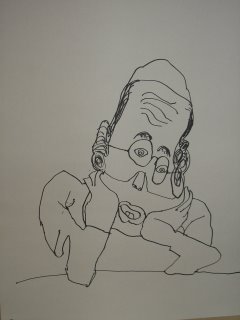 "JR" by JTF, age 8
I don't want a mustashe
"DK" by ZH age 8
Tuesday, January 24, 2006
Drawing Directive
Occasionally I assign a project that is a "have-to" It is unusual for me to do this so I try to give two class warnings ahead of time (to avoid a mutiny and help students to prepare.)
In honor of the new mask center, students donned masks and modeled for each other. The idea was that when faced with a friend in a Victorian half mask, the artist has to observe their subject very carefully. It is easier to look closely at a friend in a mask, and puts both model and artist at ease. It's also very funny.
Masquarade
"Why do people wear masks?"

This question is taped to the front of the new mask center.
Masks can disguise, entertain or protect. Masks can be used for ceremony or bank robberies. Masks can be beautiful, grotesque, practical or scary.
Students may choose to make an instant mask on a paper plate, or work for several classes and craft one from plaster or papier mache'.
Watercolor painting
Watercolor paper "is the most expensive paper in my classroom" I explained during a recent demonstration about watercolor techniques. It has "tooth" and can soak up a lot of water. I demonstrated wet on wet methods, including using salt on wet paint for special effects. Permanent markers can be used also, to create a drawing that is later painted. Several students experimented with this form of painting.
On the next day, I showed how watercolor artists may return to their painting when it is dry, and add dry brush and dry on dry techniques, for crisp lines and vivid colors. Students were instructed to tape their papers to a drawing board so the water would not wrinkle the paper, and they would get a stretched effect, complete with a clean white boarder when the paper was dry and the tape removed.
Saturday, January 21, 2006
Higher Math
In my clasroom we talk about the question "What is Art?" There is a "formula" posted on the wall which reads: Head + Hands + Heart = Art . Here is a new version from a student.
Thursday, January 12, 2006
"I need more clay"
5 year old "A" has been making a series of clay bowls using slabs and "slump molds" (a form used to press clay into). He has mastered rolling a slab of even thickness and likes to press clay stamps into his bowl before it dries. His immediate goal has been to use the biggest slump mold we have to make the biggest bowl ever. It has just gone into the kiln to be bisqued.
To make a bigger slab, "A" added more clay to the center of the original slab, and rolled it together.
Using clay stamps to add pattern and texture
Giant stamped slab bowl
The Bowl is ready to dry