About Me
Name: Profile
Location: Waterbury, Vermont, United States
Nan is a licensed art educator (K-12) and gifted education specialist ( PreK-12). She is a member of the Teaching for Artistic Behavior partnership (TAB), National Art Education Association & National Association for Gifted Children.
Links
Archives
Recommended Reading
A place to see what is happening in Fine Arts at Rocky Mountain School for the Gifted and Creative
Sunday, March 27, 2005
"Individual Voices"
RMS Student art will be on display for the month of April at Fastframes in Boulder
Tuesday, April 5th
Opening Reception!
Rocky Mountain School for the Gifted and Creative
"Individual Voices"
At Art Den Gallery in Fastframe
2317 30th Street (30th & Pearl)
Next to Whole Foods and Barnes & Noble
5:00-7:00 p.m.
Saturday, March 12, 2005
Back From NAEA-Boston!
One of the highlights for me at the National Art Education Convention in Boston last week was seeing the T.A.B. (Teaching for Artistic Behavior) Art show from Choice Based programs around the country. Of course it was a thrill to see "my kids" work at the Mass Art Arnheim Gallery, but what really struck me at the exhibit were the student's statements about their work. (See below for a sample). When students are making art about their interests, their knowledge, their passion and their own life, the value and meaning of the resulting artwork is profound. I saw a banner at the conference that depicted the idea: Hands + Mind + Heart = Art. Choice based art programs support the whole child.
Friday, March 11, 2005
Profound statements support art at TAB art show at Mass Art in Boston
The artist's statement says:"If you like to do splash art, then that means you have a soul."
Artist's statement detail
Artist's statements support student's artwork, lending insite into thoughts, motivations, influences and intentions.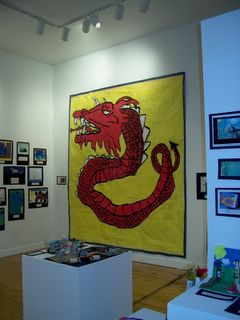 The center piece at the TAB show at Mass Art was this dragon mural by a 5th grade boy from Indiana